RealTouch: The Shutdown, and the Parts You Can Still Get
As you may've noticed, there's been no way to buy a full RealTouch setup since January 1st, 2014. While this was first announced in November of last year, there hasn't been much reporting on it yet outside of the initial announcement, so I figured I'd clear a few things up.
This message has been at the top of the RealTouch website since November:
Please be informed that we will no longer be able to sell RealTouch Devices as of January 1, 2014. RealTouch Interactive and VOD will continue to serve existing customers.

Due to increasing licensing and manufacturing costs we will not be able to sell RealTouch Devices effective January 1, 2014. The RealTouch product uses a very small amount of technology licensed from a technology partner and without this license in place we are unable to sell the RealTouch Device. Costs of manufacturing have also escalated significantly in the last year. After nearly a year of discussion and negotiation we have been unable to reach agreements that would allow us to continue the project at this time.

There is a limited quantity of complete RealTouch Devices remaining and we anticipate selling out prior to the end of the year. We also have a limited number of replacement devices (device only, no mini-tower) which can be used with your existing mini-tower available for purchase until January 1, 2014, or as long as supplies last.

We remain committed to RealTouch, and hope that agreements can eventually be reached to enable us to continue to provide this one of a kind experience to the public. While we will be unable to sell new devices next year, RealTouch Interactive and RealTouch VOD will continue to operate and provide touch enabled content to our existing users.

Thank you for your understanding and support,

The RealTouch Team
We're 4 months out from the shutdown now. What's left?
Well, like the message said, the website is still alive and well, as is the RealTouch Interactive cam date service. Streaming still works, as assuming you have the hardware, you can still set up Interactive appointments. So that bodes well over other products we've seen leave the market, like the slow, rotting death of Sinulate. Also, RealTouch is a project of AEBN, a content conversion and streaming company. This may sound weird to readers of this blog, but there's still money to be made in distribution and streaming of adult movies, even when there's no hardware involved.
Assuming you do have a RealTouch already though, what can you still get?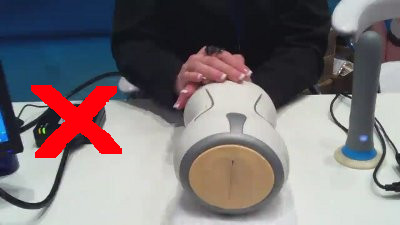 Shown above are the 3 relevant pieces for the RealTouch products:
The RealTouch Control Box, which was the piece affected by the licensing issues, is no longer available. They sold out quickly in November.
The RealTouch Hardware is still available, so if you've already got a RealTouch Control Box, you can buy replacements for the body.
The RealTouch Interactive is still available to models only. It is not sold as a consumer product.
If you're REALLY dedicated to the cause, there's nothing stopping you from buying the body and trying to build your own control box, but I doubt it'd be easy. RealTouch released their control/content protocol as open source, and I've written low-level control software for the RealTouch if you want to be able to translate the content protocol to what the hardware control box expects, so the capability and information is there on the software and driver side. You'd still need to figure out how much power to supply to the belt motors/heater/etc though, and I'd just steer clear of the lube pump altogether.
If any other news about the RealTouch surfaces, rest assured we'll be like, the 15th or so to let you know. News about sex toys travels fast these days and I am so done trying to scoop that shit.